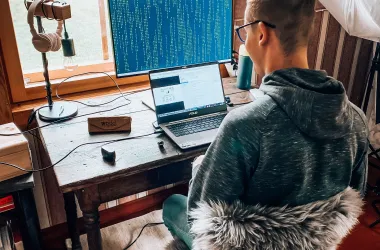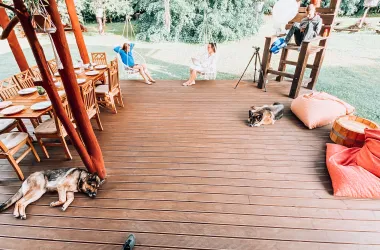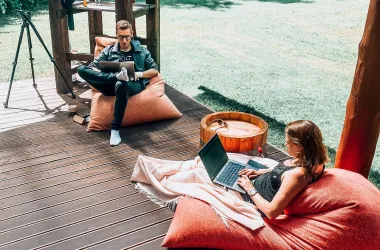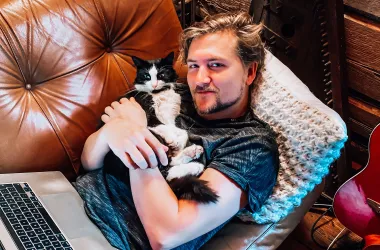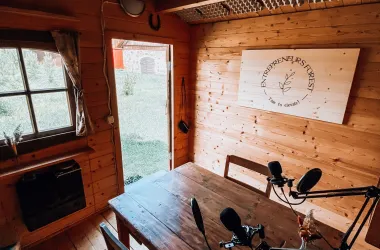 Indicative internet speed
249.09 Mbps / 26.03 Mbps
Food options
kitchenette for self-catering
on-site catering
In addition
private premises
monitor or large screen
on-site accommodation
networking opportunities
special diet food
Daily price
For remote workers from €30/day. Data projector (included in the price), extra screen on the desk €20/day; sitting ball (included), whiteboards (included), coffee/tea (included). To rent the whole complex, ask for a price.
The charming old renovated farmhouse is hidden among the woods of Old-Võromaa. The Entrepreneurs Forest is for you if you are looking for new contacts and an inspiring place to work remotely. This is a place where it is time to take action!

At our telecommuting farm you can work alone, with a partner, or as part of a close-knit 10 member team. The old restored farmhouse has everything you need to work and relax, with the tone being set by a retro interior, hanging chairs, and musical instruments.

In addition, there is a separate cabin 60 m from the main house, near the forest, which has been converted into a podcast studio. If you aren't interested in recording audio at the moment, you can use the space for private Zoom calls. Portable Wi-Fi hotspots are also available!

Happiness officers set the mood: cats, dogs and, occasionally, chickens, roosters, and cranes can be seen roaming around in the yard. A stretch break is provided by the ancient forest of Old-Võromaa and the nearby Meenikunno Bog and the Estonian Road Museum (~5 km away). In addition, a private yoga session with a yoga coach can be arranged on site for an extra fee. A tennis court is also available for use on site (separate booking). The lake is ~1 km away on foot and bicycle rental is available on site. Wearing galoshes and slippers is 'compulsory'.

The complex has 4 bedrooms (each bedroom has a maximum of 2 beds and a desk). In addition, there are 3 cabins with a single bed and a desk. There is also a photo studio, a fireplace room, a living room, a veranda, a sauna, a podcast studio, a kitchen and an outdoor kitchen at the disposal of all remote workers.

We can take care of the heating of the smoke sauna for an additional fee, if you wish to use it at special times. If you happen to join us on the weekend, we have sauna, tennis and cinema nights together. In the meantime we cook together and organise outings that participants can join.

Of course, the most important meetings have been held in the smoke sauna, which has been visited by many international visitors over the years. Remote workers and digital nomads have come from the USA, Germany, England, Canada, Ukraine, Italy, Sweden, Israel, Poland, and Russia.

We will leave the joy of cooking to you on weekdays, plus suggest good local flavours located both near and far. It is also possible to order local catering for larger events for an additional fee, using forestry products and local vegetables as raw materials.

To visit/book a room, you must fill in a separate form, briefly stating why you want to come. Only teleworkers, entrepreneurs, digital nomads or people who want to start a new business can join the Entrepreneurs Forest. It's all about having people here who share similar interests and aspirations, in order to create a working environment with a better dynamic. We will review your request and, if accepted, send you the exact location and GPS coordinates.

In addition to this, we also organise retreats on specific topics (e.g. cryptocurrencies, marketing, law) and weekend master classes on thinking.